Coastal and Harbour Defences of Sydney, Australia
Inner Middle Head
The original fortifications situated on Inner Middle Head were built in 1871 and were originally fitted with 1 10" RML and 4 68 Pdr SB guns. In 1890 the fort was modernised and armed with 2 6inch MkV BL on HP (disappearing mounting). The purpose of this fort was to cover the entrance to Middle Harbour.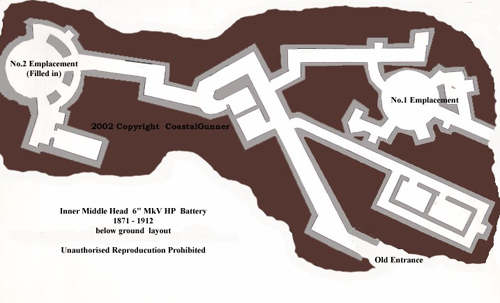 Below is shown what remains of this fort. The fort area is now almost totally overgrown. I stumbled over it litterally while looking for the Mark Battery. The Armament was removed from this fort just after WW1, one of the gun pits was used to house the engine and generator for the Mark Battery that was built in 1941.


| | | |
| --- | --- | --- |
| | | |
| Old Entrance | Tunnel Leading from the old entrance | No.1 Gun emplacement |
| | | |
| Entrance to No.1 Gun Emplacement | | Inside No.1 gun emplacement |
Armament
In 1890 the Inner Middle Head Battery was modernised. The old Muzzle Loading guns were removed along with thier emplacements and two 6 inch Mk V Breach Loading Guns on HP (disappearing ) mountings were installed. These were the latest technology, allowing the crew protection whilst operating gun and concealing it untill it was fired. The gun was loaded in the lowered position then raised to the firing position. When the gun was fired the recoil lowered the gun to the loading postion. The whole idea didn't work very well with the rate of fire being slow about 2 rounds per minute.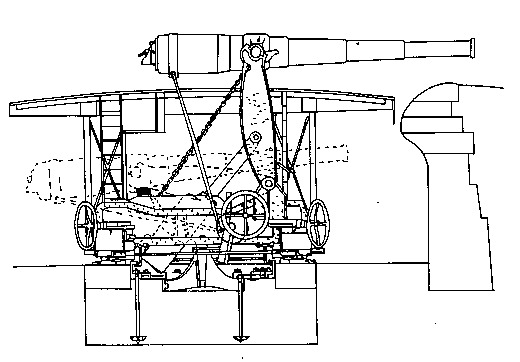 Copyright 2002 Coastal gunner
This page updated 16 January 2002